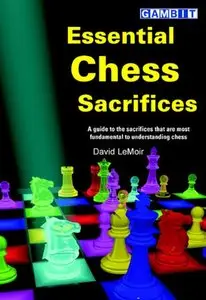 Essential Chess Sacrifices By David Lemoir
Publisher: Gam..bit Public..ations 2004 | 225 Pages | ISBN: 1904600034 | DJVU | 2 MB
Sacrifices are an essential part of chess. Those who never consider sacrificing will miss countless opportunities and find that promising positions repeatedly slip away. Players who do not appreciate their opponents' sacrificial possibilities will be unable to see danger signs, and find themselves on the wrong end of too many king-hunts. Rather than merely cataloguing the various possibilities and providing examples, LeMoir discusses the possible follow-ups to the sacrifices, the defensive options against them, and the positional factors that might suggest whether the sacrifice will be sound or unsound. There are many important types of chess positions that can only be played well by those who understand the thematic sacrifices that are possible.
!!!No Mirrors below, please! Follow Rules!