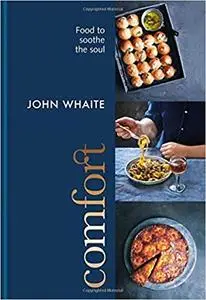 John Whaite, "Comfort: food to soothe the soul"
English | 2018 | ISBN: 1909487929 | 224 pages | MOBI | 12 MB
Comfort food is enjoying a renaissance as people start to shy away from elimination diets and "clean eating" and embrace the balance of nourishing homemade meals. With the concept of hygge emphasizing the importance of enjoying the sensual, warming things in life, cosy cooking has taken on a new life. John's collection of enticing recipes will have you cooking up a comforting feast in the kitchen.
A champion of comfort food, John Whaite celebrates the simple pleasure of cooking and eating without feeling guilty. Chapters are divided by comfort cravings and include Something Crunchy; Something Spicy; Something Pillowy; Something Cheesy and, of course, Something Sweet. Recipes include Breakfast Ramen, Crab & Sriracha Mac'n'Cheese, Lemon & Pea Barley Risotto, Peanut Butter Brownies, and Cinnamon Knots. This is comfort food cranked up a notch!