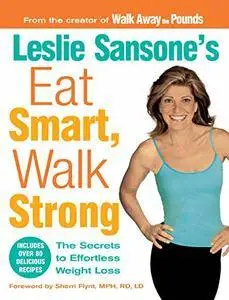 Leslie Sansone's Eat Smart, Walk Strong: The Secrets to Effortless Weight Loss by Leslie Sansone and Sherri Flynt
English | 2006 | ISBN: 193172251X, 0446693375 | 272 pages | EPUB | 1,7 MB
Despite hundreds of fad diets and get-thin-quick schemes, the only real way to be fit is to exercise and eat right. #1 fitness video instructor Leslie Sansone has developed a highly successful walking exercise program. Now she turns her pen to the secrets of her personal diet habits. In LESLIE SANSONES EAT RIGHT, EAT SMART, she applies her proven six-week plan format to reforming the way readers eat. Each week will cover a different habit (such as portion control) with numerous tips on how to apply it. Each week also has a focus food (such as whole grains) explaining its benefits and providing smart and tasty ways to incorporate it into your diet. The point of the book is not to make readers conform to a rigid plan, but to allow them to experiment with different methods and adopt those habits that are most effective.
My nickname -
interes