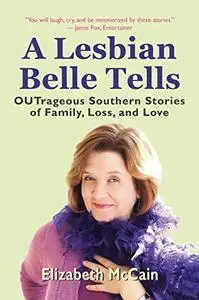 Elizabeth McCain, "A Lesbian Belle Tells: OUTrageous Southern Stories of Family, Loss, and Love"
English | 2020 | ISBN: 1945567236 | 224 pages | MOBI | 5.2 MB
A Poignant Memoir Dripping with Southern Charm and Drama
Based on Elizabeth McCain's award-winning one-woman play, A Lesbian Belle Tells. . ., this riveting memoir will captivate readers with her true tales of growing up in Mississippi, coming out in DC as a lipstick lesbian, experiencing family rejection, and finding lasting love and belonging. The narrative is written from McCain's perspective as a storyteller, humorist, feminist, spiritual counselor, and a keen cultural observer. And it's dripping with Southern charm and drama!
Soul-searching, Rule-breaking, and Truth-telling
This belle's coming out was not what she or her conventional family expected. McCain's stories take readers on a wild ride through a Southern lesbian's life of soul-searching, rule-breaking, and truth-telling. She brings to life vivid characters such as her Jesus lovin' mama, domineering daddy, cocktail sippin' Aunt Liber, and an Episcopalian ex-boyfriend who suggests she become a lesbian. Then her exploration of the vibrant Washington DC lesbian culture takes off, and she eventually meets her soul mate, Marie, at a good old- fashioned lesbian potluck dinner.
McCain's description of forgiving her dying mother after a long estrangement will crack readers' hearts wide open. Her emotionally raw stories are balanced with levity such as entertaining interpretations of the different meanings of the phrase, "Bless your heart", from years of absorbing porch wisdom from her charming aunties at her family's summer mountain cottage, called "Southern Comfort". And her descriptions of eccentric family funerals are "to die for."
Combines Humor, Playfulness, Sadness, Sincerity, and Humility
McCain's writing resembles talented writers' styles such as Dorothy Allison's honesty, Julia Reed's Southern sass and irreverence, and David Sedaris's satirical wit. This deeply engaging memoir combines humor, playfulness, sadness, sincerity, and humility to remind us all of the transformative power of story. Readers are encouraged to explore, celebrate, and share their own personal stories.
A Lesbian Belle Tells affirms and validates the LGBTQ+ community and beyond, with universal themes of self-discovery, acceptance, family struggles, forgiveness, loss, and love. McCain spins stories with a beating heart, and dispenses a powerful dose of medicine for the soul to heal just about anything.