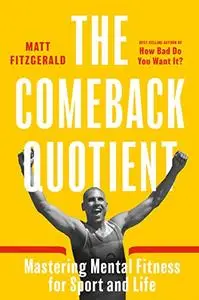 Matt Fitzgerald, "The Comeback Quotient: Mastering Mental Fitness for Sport and Life"
English | 2021 | ISBN:1948007169 | 211 pages | EPUB | 1.5 MB
What's the secret of a great comeback? And how do we boost our mental fitness to succeed in sport and life?
The Comeback Quotient provides inspiration and practical advice on building mental endurance and physical stamina. When bestselling sportswriter Matt Fitzgerald went through a coronavirus-George Floyd double whammy, he realized that nobody can escape setbacks in life so we all need to be able to pull off a comeback. In training for his first triathlon since 2009 and overcoming chronic injury, Matt Fitzgerald puts his ultrarealist mental fitness training to the test.
In The Comeback Quotient, Matt Fitzgerald examines the science and stories behind some of the most astonishing sporting comebacks to uncover a new blueprint to survive and thrive.
Why are some athletes able to overcome overwhelming odds and rebound stronger than ever? And can we unlock the secret of their success?
Matt Fitzgerald identifies these mega-achievers of astounding athletic comebacks as 'ultrarealists', men and women who succeed where others fail by fully accepting, embracing, and addressing the reality of their situations. From triathletes like Mirinda Carfrae to ultrarunners like Rob Krar to rowers, skiers, cyclists and runners all over the world, Fitzgerald delves into stories that are not just compelling but constructive, laying out the steps anyone can take to bounce back from their own setbacks in sport and in life.
In the tradition of his best-selling How Bad Do You Want It?, The Comeback Quotient combines gripping sports stories with cutting-edge science. Fitzgerald's insight will change forever how you perceive the challenges you face, giving you the inspiration and the tools to make the next great comeback you witness your own.
"When the worst has happened, the best is next. The Comeback Quotient by Matt Fitzgerald provides elite-tested mental strategies for loving the comeback more than hating the setback."
–Jim Afremow, author of The Champion's Mind
"Matt Fitzgerald has a winner in The Comeback Quotient. You will be on the edge of your seat as he tells the inspiring comeback stories from some of the most interesting individuals on the face of the earth, realizing by the end that along the way you have been given a blueprint to orchestrate a few comebacks of your own."
–Ben Rosario, Head Coach, HOKA ONE ONE NAZ Elite