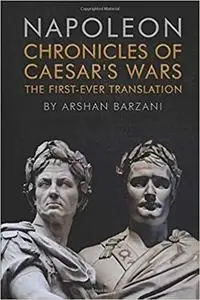 Chronicles of Caesar's Wars: The First-Ever Translation by Arshan Barzani
English | ISBN: 1973183684 | 159 pages | EPUB | October 29, 2017 | 2.12 Mb
For the first time ever, Napoleon's "Chronicles of Caesar's Wars" ("Précis des guerres de César") is available in English. Dictated by Napoleon to Count Marchand, his valet, while in exile on St. Helena, Chronicles of Caesar's Wars explores Caesar's rise, his campaigns in Europe and North Africa, and the plot that killed him. Napoleon, who had a lifelong obsession with Caesar, wrote this book in one of his last acts. The work relaxed him, "tossing a few flowers on the path that was leading to the tomb," as Count Marchand's preface recalls. Napoleon passionately explores Caesar's battles in Gaul and during the Civil War. He concludes each chapter with observations, sometimes providing details, sometimes veering away from praise towards criticism, applying the insights of a military career and a healthy ego to explain what he would have done better. Napoleon ends the book with a remarkable defense of Caesar's dictatorship. He takes apart his assassins' justifications and the fault-finding of "good Plutarch the libeler" with such fervor that one can scarcely believe a gulf of two millennia stood between the two eminent men. In a sense, though, it was also a defense of his own government. Attached to the book are previously untranslated essays in which Napoleon takes on the role of literary critic and philosopher. He criticizes Virgil's Aeneid for butchering Homer's Iliad, and Voltaire for unflatteringly depicting Mohammad, another of Napoleon's heroes. He explores in another essay whether a man has the right to kill himself, an act we now know he had personally attempted.