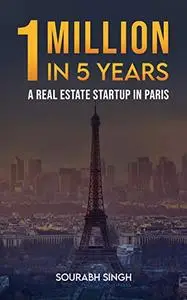 1 Million in 5 years: A Real Estate Startup in Paris by Sourabh Singh
English | 2021 | ISBN: N/A | ASIN: B08Y6TNPM7 | 45 pages | EPUB | 0.93 Mb
This book is based on my real life experience in Paris where I came as a student and end up being an Entrepreneur in Real Estate. The incidents in this book shows, How goal oriented efforts with conducive approach, leads to extraordinary outcomes. Here I have tried to explain all the steps and procedures that I have adopted to fulfil my dream of Real Estate Startup. I have also explained all the struggles and problems I faced and how I overcome those , with proper strategy, positive mindset and good timing.
This book gives an exact direction and step by step procedure to raise a Real Estate business all the way from zero to millions, in suburbs of Paris. And I am sure, If it works for Paris, It can work for other European cities like Madrid, Amsterdam, Munich ,Berlin, Vienna, Budapest, Barcelona etc.Even for the next stage of my startup, I would like to expand its reach to these European cities.
The summary at the end, gives you a short and accurate lessons of all chapters of this book.
Be careful, I am not going to give you some magic tricks or gimmicks to get you a whole new business without making efforts .If you are looking for easy money without hard work then put this book down.
I am writing this book , in order to share my knowledge, instinct and feelings that I have gained over a period of 10 years in Paris during the tenure of my education, job and Real estate Business. I will explain briefly, How I started from zero and raised a net worth of over 1 million in just a span of 5 years.
Although, my first startup is into information technology TraceByte.com that you can find out in my next book "Efficient ways to achieve Goals" but here I am only going to talk about my Real Estate startup JoinImmo.com
Feel Free to contact me for book requests, informations or feedbacks.
Without You And Your Support We Can't Continue
Thanks For Buying Premium From My Links For Support