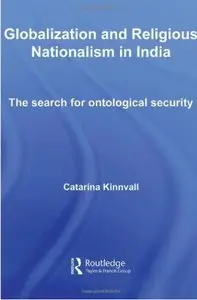 Catarina Kinnvall - Globalization and Religious Nationalism in India: The Search for Ontological Security
Published: 2006-11-30 | ISBN: 0415405475 | PDF | 240 pages | 3 MB
Exploring the effects of globalization in India and the problem of identity formation, this book contributes to the theoretical and empirical debate on identity, globalization, religious nationalism and (in)security.
The author puts forward a new approach based on political psychology, to interpret identity construction, which is seen as an individualized process where interactions of the global and the local are intimately implicated. Thereby, this book presents a psychological analysis of how increased insecurity affects individuals' and groups' attachments to religious nationalism in an era of globalization.
Developing an interesting angle on a recognized issue of concern in the politics of South Asia, and much more broadly in the context of the contemporary world and developing global politics, this is a valuable addition to normative critical social theory and the debate on identity and culture in political science and international relations, appealing to an inter-disciplinary audience.