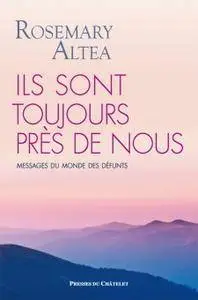 Rosemary Altea, "Ils sont toujours près de nous"
Presses du Châtelet | 2012 | ISBN: 2298070350 | French | EPUB | 288 pages | 0.3 MB
Parmi les milliers de personnes qui se tournent vers Rosemary Altea lorsqu'ils perdent un être cher, on compte des chefs d'État, des célébrités, mais aussi nombre d'hommes et de femmes ordinaires. Tous, sans exception, reconnaissent son extraordinaire capacité à nous transmettre à un moment douloureux de notre vie un message d'espoir. Chacun peut trouver en elle une source de réconfort et de sérénité.
Les rencontres recueillies dans ce livre racontent des histoires exceptionnelles et émouvantes. Elles témoignent de la possibilité de maintenir un lien d'amour avec les défunts, un contact de lumière et d'harmonie.

Biographie de l'auteur
Née à Leicester, en Angleterre, Rosemary Altea a très tôt des visions. Elle entend des voix mais, par peur de sa mère, se tait. Au milieu des années 70, lorsque son mari l'abandonne dans le plus grand dénuement avec une fille âgée de dix ans, ses visions reprennent. Découvrant qu'elle peut guérir par apposition des mains, elle décide de faire partager ses dons. Depuis vingt ans, elle est médium et a fondé une organisation caritative, The Rosemary Altea Association of Healers. Le succès de son livre Une longue échelle vers le ciel, traduit dans dix pays, l'a amené à voyager, à animer des séminaires. En Italie où elle se rend chaque année, elle remplit des théâtres de 2000 personnes et dialogue en direct avec les défunts des personnes présentes en déambulant dans les travées. Dans ce seul pays, les ventes cumulées de ses ouvrages dépassent le million d'exemplaires.