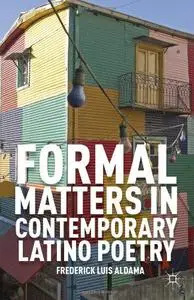 Formal Matters in Contemporary Latino Poetry By Frederick Luis Aldama
2013 | 220 Pages | ISBN: 023039163X | PDF | 2 MB
Today's Latino poetry scene is bursting at the seams. While Latino poetry has played an important role in establishing Latino letters, surprisingly only a few scholars have spent time analyzing its form. The first of its kind, Formal Matters in Contemporary Latino Poetry pulls back the curtain on how the poets Julia Alvarez, Rhina Espaillat, Rafael Campo, and C. Dale Young use formal structures such as meter, rhyme, and line break to affect our perceptions, thoughts, and feelings about the world we inhabit. With original interviews, this imaginative book explores how these poets add something to reality with their creations.