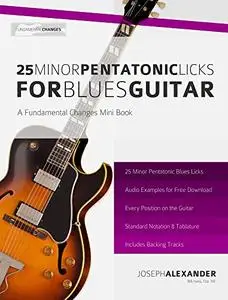 25 Minor Pentatonic Licks for Blues Guitar by Joseph Alexander
English | 2012 | ISBN: N/A | ASIN: B009XTEO3S | 45 pages | EPUB | 1.13 Mb
-25 Minor Pentatonic Blues Licks-
-Free Audio Examples Download from
http://www.fundamental-changes.com
-
-3 Quality Backing Tracks-
This book contains 25 new and original minor pentatonic blues guitar licks. There are 5 licks for each of the 5 minor pentatonic scale shapes shown below.
Each lick has a corresponding audio example which is available for free download (no strings attached!) from
www.funamental-changes.com
just click on the 'downloads' link.
Included are 3, high quality backing tracks at different speeds to get you playing as soon as possible.
Also in this book there is a great section on how to practice these lines so they naturally incorporate into your playing.
This book came out of a need to develop great blues playing in many of my 40+ weekly private guitar students. Every line in this book has been tried and tested on private students who pay many multiples of the cost of this book. It's all 'good stuff' and every line contained in these pages will teach you something about a different area of the guitar whilst giving you some great lines to play.
Whether you play rock, jazz, or metal, the root of all modern music is the blues so a fundamental understanding of its vocabulary is essential.
If you don't already know them, here are the 5 shapes of the minor pentatonic scale in the key of A. To learn them, play and visualise the chord (red dots) and then play through the scale.
Feel Free to contact me for book requests, informations or feedbacks.
Without You And Your Support We Can't Continue
Thanks For Buying Premium From My Links For Support