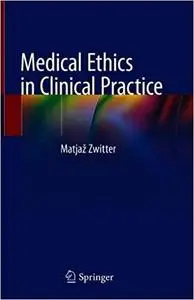 Matjaz Zwitter, "Medical Ethics in Clinical Practice"
2019 | ISBN-10: 3030007189 | 211 pages | PDF, EPUB | 23 MB
This book discusses medicine from an ethical perspective, whereas books on medical ethics more commonly present ethics from a bio-medical standpoint. The book is divided into 23 chapters. The introductory chapters present some basic concepts of medical ethics, such as the relation between the legal system and ethics, ethical documents, ethical theories, and ethical analysis. The following chapters address issues of importance in all fields of medicine: respecting autonomy, communication, relations within a healthcare team, professional malpractice, limited resources, and the portrait of a physician. In turn, the third part of the book focuses on ethical aspects in a broad range of medical activities - preventive medicine, human reproduction, genetics, pediatrics, intensive care, palliative medicine, clinical research, unproven methods in diagnostics and treatment, and the role of physicians who aren't directly responsible for patient care. The last part presents students' seminars with case stories. The book offers a valuable resource for physicians of all specialties, students of medicine, professionals, and students from other fields devoted to human health, journalists, and general readers with an interest in medicine.