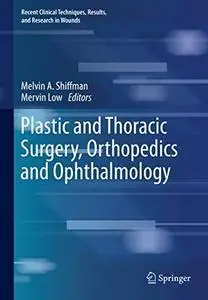 Plastic and Thoracic Surgery, Orthopedics and Ophthalmology (Recent Clinical Techniques, Results, and Research in Wounds, 4) by Melvin A. Shiffman, Mervin Low
2020 | ISBN: 3030107094 | English | 279 pages | EPUB | 138 MB
This book deals with wound management in plastic surgery, orthopedics, ophthalmology and thoracic surgery. The first part provides information on the latest developments in orthopedic surgery, while the second addresses ophthalmology and wounds after e.g. cataract surgery or keratopathy. The third part, which exclusively focuses on wounds in plastic surgery, highlights recent results after microsurgical procedures and keloid reconstruction, but also after breast reconstruction and limb injuries. Lastly, the part on thoracic surgery informs the reader about sternotomy techniques and possible complications. Given it interdisciplinary approach, this book offers a valuable resource not only for plastic surgeons, but also for ophthalmologists, thoracic surgeons and orthopedic surgeons.