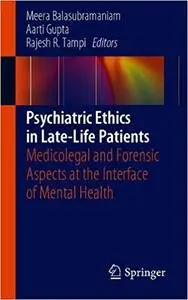 Meera Balasubramaniam, "Psychiatric Ethics in Late-Life Patients: Medicolegal and Forensic Aspects at the Interface of Mental Health"
English | ISBN: 3030151719 | 2019 | 246 pages | EPUB, PDF | 2 MB + 2 MB
The process of aging is frequently associated with changes in the physical and mental functioning of older adults, challenging their autonomy and rendering them vulnerable to exploitation. Certain illnesses that are more common in older adults can affect their capacity to function independently. These include the capacity to make medical decisions, live independently, manage finances, to name a few. Healthcare professionals, especially psychiatrists are often entrusted with the responsibility of assessing an older adult's capacity to perform one or more functions. This makes it imperative for them to be cognizant of these issues, understand the need for these evaluations, and be able to conduct them in a comprehensive manner. Another way of protecting an older person's rights and facilitating a life based on their own decisions even after they lose decision making capacity is Advanced Health Care Planning (AHCP). Health care professionals are required to initiate a discussion about AHCP with their patients and their families and review it periodically.
Lastly, the older adults incarcerated in prisons is a group that is growing in numbers. They have unique needs at the intersection of the geriatric and forensic services, but are often marginalized by both services. The combination of poor quality of life and increasing costs makes the care of older adults in the criminal justice system makes this topic an important public health concern. There is a pressing need for better training of prison staff in issues of geriatric psychiatry. Assessment of criminal responsibility and competence to stand trial in aging offenders are other complex but under-studied issues.
This proposed book will provide a comprehensive view of ethical, medicolegal, and forensic issues that will be useful in clinical practice. There will be three sub-sections, each focusing on ethical, medicolegal and forensic issues respectively. The first section will focus on ethical issues. Its first chapters will provide an overview of the how age and the process of aging influence decision-making and introduce unique ethical dimensions to clinical care. This will be followed by a discussion of the concepts of informed consent and capacity evaluation. The next chapters will focus on common scenarios that arise in the care of elderly patients and offer a practical approach to understanding and managing them. These will include assessments of the capacity to make medical decisions, the capacity to live independently, manage finances, drive a vehicle, have sexual relations etc. A chapter on ethical issues specific to dementia will outline issues related to diagnostic disclosure and genetic testing. Research ethics issues in geriatric psychiatry will also be outlined.
The next section of the book will focus on surrogate decision making in an older adult who has been deemed to lack the capacity to serve one or more functions independently. The first chapters in this sub-section will focus on patient directed advance health care planning tools, namely, living will and power of attorney. This will be followed by an overview of default surrogate making. Guardianship will subsequently be covered. A separate chapter will cover the issue of elder abuse and discuss an approach to assessing it.
The last section of the book will cover forensic issues in geriatric psychiatry. The first chapter will discuss aging older adults in the criminal justice system from an epidemiological perspective. The growing numbers of incarcerated older adults, their illness burden, the challenges in the diagnosis and management of neurocognitive disorders in the prison setting will be elucidated. The following chapter will discuss competence to stand trial with reference to elderly offenders. This will be followed by a discussion of the concepts of medical reprieve, compassionate release as well as model programs and policies currently in the works for older incarcerated adults.