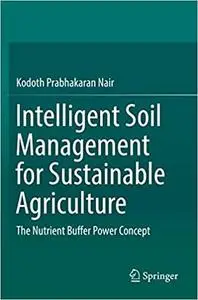 Kodoth Prabhakaran Nair, "Intelligent Soil Management for Sustainable Agriculture: The Nutrient Buffer Power Concept"
English | 2019 | ISBN: 3030155293 | PDF | pages: 401 | 6.9 mb
This book conceptualizes a revolutionary idea based on a mechanistic-mathematical model in which the "Buffer Power" of the principal and problematic nutrients like phosphorus, potassium and zinc is quantified. This is achieved by using either a very sophisticated technique, electro-ultra-filtration, or a simple adsorption-desorption equilibrium technique, and by integrating the "Buffer Power" of the nutrient in question into the computations, accurate fertilizer recommendations are made. This technique was field tested across Europe, (Germany and Belgium), Africa (The Republic of Cameroon), and Asia (both Central Asia- Turkey and South Asia-India), during a period of three decades in test crops, such as, summer rye (Secale cereale), maize (Zea mays), wheat (Triticum aestivum), white clover (Trifolium repens), a highly nutritious and palatable fodder crop for Africa, black pepper (Piper nigrum) and cardamom (Elettaria cardamomum). Remarkable precision in predictability of plant uptake of phosphorus, potassium and zinc was obtained employing the technique.
"The Nutrient Buffer Power Concept" project was shortlisted for the very prestigious U.S. $1 Million Rolex Awards For Enterprise of The Rolex Foundation, Geneva, Switzerland, for its outstanding originality and quality from more than 3500 nominations worldwide and is the only project chosen for this very coveted distinction from the Asian continent.