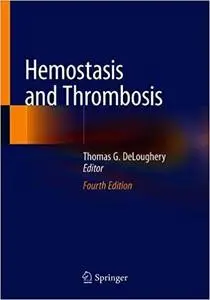 Thomas G. DeLoughery, "Hemostasis and Thrombosis Ed 4"
English | ISBN: 3030193292 | 2019 | 236 pages | EPUB, PDF | 2 MB + 4 MB
The latest edition of this practical handbook provides a concise yet comprehensive overview of common and rare problems with hemostasis and thrombosis. Through thoroughly updated and revised chapters, the text features practical information on diagnosing and managing troublesome hematologic conditions often found in clinical practice. The handbook also spotlights advances in the field since the publication of the last edition, including multiple novel coagulation factors for hemophilia, the increasing use of novel anticoagulants and their reversal agents, and the increasing use of genetics for diagnosis.
Written by experts in the field, Hemostasis and Thrombosis, Fourth Edition is an invaluable resource for healthcare professionals who treat patients afflicted with these conditions.