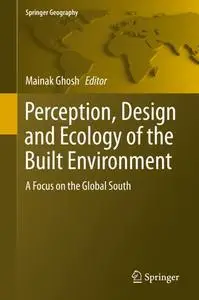 Perception, Design and Ecology of the Built Environment: A Focus on the Global South by Mainak Ghosh
English | PDF | 2020 | 578 Pages | ISBN : 3030258785 | 34.84 MB
This edited volume is a compilation of the 'built environment' in response to many investigations, analyses and sometimes mere observations of the various dialogues and interactions of the built, in context to its ecology, perception and design. The chapters concentrate on various independent issues, integrated as a holistic approach, both in terms of theoretical perspectives and practical approaches, predominantly focusing on the Global South.
The book builds fabric knitting into the generic understanding of environment, perception and design encompassing 'different' attitudes and inspirations. This book is an important reference to topics concerning urbanism, urban developments and physical growth, and highlights new methodologies and practices. The book presumes an understanding unearthed from various dimensions and again woven back to a common theme, which emerges as the reader reads through.
Various international experts of the respective fields working on the Global South contributed their latest research and insights to the different parts of the book. This trans-disciplinary volume appeals to scientists, students and professionals in the fields of architecture, geography, planning, environmental sciences and many more.
i will be very grateful when you

support

me and buy Or Renew Your Premium from my Blog links
i appreciate your

support

Too much as it will help me to post more and moreWithout You And Your

Support

We Can't Continue
Thanks For Buying Premium From My Links For

Support