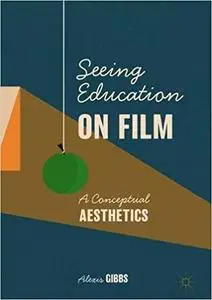 Alexis Gibbs, "Seeing Education on Film: A Conceptual Aesthetics"
English | ISBN: 303033631X | 2019 | 225 pages | EPUB, PDF | 1033 KB + 3 MB
This book argues that films have more to offer by way of conceptualising education than textual scholarship. It considers the inadequacies of trying to define education in any absolute or metaphysical sense, favouring instead explorations of how the concept comes to feature meaningfully in our language through the relationship between the verbal and the visual, word and world. Drawing on the work of the later Wittgenstein, it suggests that a shift in our philosophical focus from knowing to seeing can allow for the phenomena of our ordinary educational experience (teachers, schools, children) to be appreciated anew. The book argues that cinema is the medium best placed to draw attention to this revaluation of the everyday, and particular films are presented as offering unique insights into the aesthetic nature of the educational concept. The book will be of primary interest to educators and educationalists alike, but its interdisciplinary nature should also appeal to those in the fields of film study, philosophy, and aesthetics.