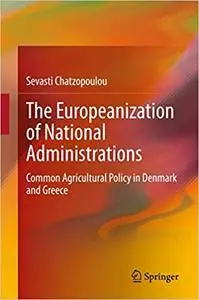 Sevasti Chatzopoulou, "The Europeanization of National Administrations: Common Agricultural Policy in Denmark and Greece"
English | ISBN: 3030472213 | 2020 | 240 pages | EPUB, PDF | 3 + 8 MB
Drawing on comparative politics and social network analysis, this book examines how the domestic institutional and organizational settings, as well as the network governance patterns, determine variation in administrative responses to EU's Common Agricultural Policy (CAP) in two European Union (EU) member states, Denmark and Greece. These two small member states represent the North and South dimensions of the EU.
The north-south dimension in relation to administrative structures, respond differently to EU common policies―and to Common Agricultural Policy, specifically―which has not been studied in the Europeanization literature. Even though, the study of administrative responses to EU common policies is important as it has been especially noticeable during the current financial crisis. Europeanisation studies concentrate on either large Western European states (France, Germany and UK) or small Western Northern states. These studies produced detailed knowledge on specific countries and policy areas but they ignored the agricultural policy area and the importance of small Southern member states.
By comparing a small Southern with a small Northern state since the accession to the EU, this book aims to fill this gap in the literature. Moreover, by linking the findings of the two cases to the member states that joined the EU in the 2004 fifth enlargement, and in other policy areas, it allows a better understanding of similar responses, either adaptation or inertia.
"This book represents an important contribution to the theoretical and empirical literature on Europeanisation and the Common Agricultural Policy (CAP). It systematically tackles an under studied question: does Europeanisation of policies lead to administrative change and convergence among the member states? The domestic administration of the EU CAP has remained domestically designed and monitored, resulting in divergence among the member states and gaps and imbalances in the performance of EU CAP decisions. The CAP is of more general interest because it combines regulatory and market intervention policy instruments. The analysis proceeds through in depth comparative historical case studies of Denmark and Greece which uses a sophisticated combination of quantitative and qualitative methodologies. The authoritative and informative analysis is structured by a focus on three key domestic factors. There is differentiated administration of common policies and while administration succeeds and adapts in one state, it does not necessarily do so in others, leading to differences in implementation performance. This book should provide a stimulus for further research." ―Wyn Grant, University of Warwick
The last 40 years have been crucial for the European agriculture. The Common Agricultural Policy fulfilled its primary objective, which led Europeans to shift its objectives and cope with the shortcomings created by the success of the Policy itself―manage surpluses and narrow the gap between farmers, due to price mechanism―as well as, adapt the policy following the successive enlargements and follow the developments in the global economy, in which we live nowadays. Dr. Chatzopoulou gives us a very accurate image on how differently actors of the agricultural economy, farmers, cooperatives and the administrations both in Greece and Denmark, behave. But also, how different is the structure of the sector in these two countries: in Denmark, almost everything is based upon a consensus, where there does not exist a law on cooperatives, and where the administration and the sector work together to adapt or to influence the decisions to take at European level. On the other hand, in Greece, farmers struggle to make their voice heard in the absence of professional organizations, the cooperatives are bound to work in the framework of a specific and strict law and the administration was not shown very cooperative with the sector. These two realities are very well illustrated by the author and many lessons are to be learnt through this study. But, above all, the author gives us a fair idea of how complex is the process of Europeanisation in a Europe Union composed of sovereign member-States with different history, culture, social organization and different legal systems. ―Vaggelis Divaris, Former European Commission principal administrator (DG Agriculture and Rural Development)