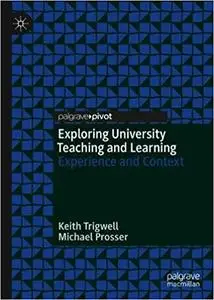 Keith Trigwell, "Exploring University Teaching and Learning: Experience and Context"
English | ISBN: 3030508293 | 2020 | 146 pages | EPUB, PDF | 1317 KB + 2 MB
This book focuses on university teachers' experience of teaching and learning. Following on from the 1999 volume Understanding Learning and Teaching, which focused on student experiences of teaching and learning, this book provides guidance on how teachers' experiences can be understood in ways which can support the continued enhancement of student learning experiences and learning outcomes. Drawing on the outcomes of a 30-year research project, this comprehensive volume discusses the qualitative variation in approaches to university teaching, the factors associated with that variation, and how different ways of teaching are related to differences in student experiences of teaching and learning. The authors extend the discussions of teaching into new areas, including emotions in teaching, leadership of teaching, growth as a university teacher and the contentious field of relations between teaching and research.
"This important book offers an accessible, research-informed guide to understanding student learning and university teaching. Written by two world-leading experts in the field, it provides rich insights and practical responses to the challenges faced by those who care deeply about teaching and learning in higher education."
―Professor Paul Ashwin, Lancaster University, UK
"Enhancing discipline-specific evidence-based development of the quality of teaching and learning in higher education has been my strategy during my whole career. Therefore and with great pleasure I read the book by Trigwell and Prosser which distills their teaching and learning research into a guide for those seeking to better understand their teaching environment. Building on their discovery of relations between the ways of teaching and the ways of learning, they expand on what is known about variation in teaching and how it links to course design, to research and to academic development. This book will be a valuable resource for many academics."
―Professor Sari Lindblom, University of Helsinki, Finland
"In an international higher education context going through much change and uncertainty, Trigwell and Prosser have produced a scholarly, timely, evidence-based, view of teaching and learning suitable for universities world-wide. The experience, quality and satisfaction of university leaders, researchers, teachers and students will benefit enormously from the ideas in this addition to their first book."
―Professor Robert A. Ellis, Griffith University, Australia