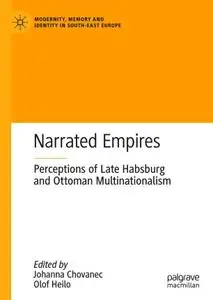 [Narrated Empires: Perceptions of Late Habsburg and Ottoman Multinationalism by Johanna Chovanec

English | EPUB | 2021 | 421 Pages | ISBN : 3030551989 | 1.3 MB
"This much-welcomed volume undertakes for the first time to provide a comparative perspective on late Habsburg and Ottoman imperial legacies. Exploring a variety of distinct forms of modern narratives, the book convincingly reclaims the multi-layered past and presence of the two empires and their multiconfessional and multi-cultural societies. An important and engaging book."
—Nadia Al-Bagdadi, Central European University, Budapest and Vienna
"A lucid book that engages complex themes, this is a sophisticated analysis unpacking the social and political legacies of the Habsburg and Ottoman empires. Chovanec and Heilo have produced the ideal compendium for understanding the history of empires, weaving throughout crisp yet subtle intellectual considerations underlying the intersections of modernity, empire, and nationalism."
—M. Hakan Yavuz, University of Utah, USA
This book examines the role of imperial narratives of multinationalism as alternative ideologies to nationalism in Central and Eastern Europe, the Balkans, and the Middle East from the revolutions of 1848 up to the defeat and subsequent downfall of the Habsburg and Ottoman empires in 1918. During this period, both empires struggled against a rising tide of nationalism to legitimize their own diversity of ethnicities, languages and religions. Contributors scrutinize the various narratives of identity that they developed, supported, encouraged or unwittingly created and left behind for posterity as they tried to keep up with the changing political realities of modernity.
Beyond simplified notions of enforced harmony or dynamic dissonance, this book aims at a more polyphonic analysis of the various voices of Habsburg and Ottoman multinationalism: from the imperial centres and in the closest proximity to sovereigns, to provinces and minorities, among intellectuals and state servants, through novels and newspapers. Combining insights from history, literary studies and political sciences, it further explores the lasting legacy of the empires in post-imperial narratives of loss, nostalgia, hope and redemption. It shows why the two dynasties keep haunting the twenty-first century with fears and promises of conflict, coexistence, and reborn greatness.
Johanna Chovanec is a doctoral fellow of the Austrian Academy of Sciences and the German Academic Scholarship Foundation at the Department of Comparative Literature, University of Vienna, Austria.
Olof Heilo is Deputy Director at the Swedish Research Institute in Istanbul, Turkey, and a visiting lecturer at the Centre for Middle Eastern Studies in Lund, Sweden.
Please Please :( We Are Here For You And Without You And Your

Support

We Can't Continue
Thanks For Buying Premium From My Links For

Support
i will be very grateful when you

support

me and buy Or Renew Your Premium from my Blog links
i appreciate your

support

Too much as it will help me to post more and moreWithout You And Your

Support

We Can't Continue
Thanks For Buying Premium From My Links For

Support