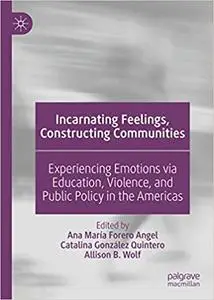 Ana María Forero Angel, "Incarnating Feelings, Constructing Communities: Experiencing Emotions via Education, Violence, and Public Policy in the Americas"
English | ISBN: 3030571106 | 2021 | 243 pages | EPUB, PDF | 4 MB + 4 MB
Attempting to connect the academic discussion around the anthropology and philosophy of the emotions to real-life, everyday experiences, this collection brings together concrete cases and situations arising from specific social and political contexts throughout the Americas. In particular, the authors explore how emotions are generated, constructed, discovered, manipulated, and experienced throughout the Americas by exploring undertheorized topics ranging from investigating the emotional lives of prisoners in Colombia and Brazil who have committed "crimes of passion," to Colombian soldiers' experiences of core "emotional events," to the role of emotions in immigration policy in the United States, to how emotions affect educators' abilities to teach certain material. Taken as a whole, this innovative, interdisciplinary, collection of original essays is not merely comparative, but rather seeks to bring voices and methodologies from North and South America into conversation to generate innovative analyses and ways to reflect about emotions in response to violence, state policies, and educational systems.