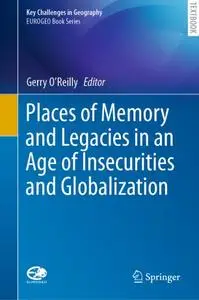 Places of Memory and Legacies in an Age of Insecurities and Globalization by Gerry O'Reilly

English | EPUB | 2020 | 540 Pages | ISBN : 3030609812 | 164.5 MB
In this book, practitioners and students discover perspectives on landscape, place, heritage, memory, emotions and geopolitics intertwined in evolving citizenship and democratization debates. This volume shows how memorialization can contribute to wider inclusive interpretations of history, tourism and human rights promoted by the European Project. It's geographies of memories can foster cooperation as witnessed throughout Europe during the 2014-18 WWI commemorations.
Due to new world orders, geopolitical reconfigurations and ideals that emerged after 1918, many countries ranging from the Baltic and Russia to the Balkans, Turkey and Greece, eastern and central Europe to Ireland are continuing with commemorations regarding their specific memories in the wider Europe. Shared memorial spaces can act in post conflict areas as sites of reconciliation; nonetheless `the peace' cannot be taken for granted with insecurities, globalization, and nationalisms in the USA and Russia; the UK's Brexit stress and populist movements in Western Europe, Visegrád and Balkan countries. Citizen-fatigue is reflected in socio-political malaise mirrored in France's Yellow Vest movement and elsewhere. Empathy with other peoples' places of memory can assist citizens learn from the past. Memory sites promoted by the EU, Council of Europe and UNESCO may tend to homogenize local memories; nevertheless, they act as vectors in memorialization, stimulating debate and re-evaluating narratives.
This textbook combines geographical, inter-cultural and inter-disciplinary approaches and perspectives on spaces of memory by a range of authors from different countries and traditions offers the reader diverse and holistic perspectives on cultural geography, dynamic geopolitics, globalization and citizenship.