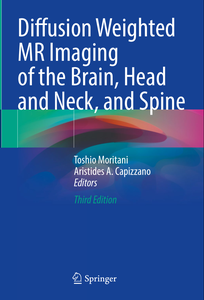 Diffusion-Weighted MR Imaging of the Brain, Head and Neck, and Spine, 3rd Edition
English | 2021 | ISBN: 3030621197 | 929 Pages | PDF | 126 MB
This richly illustrated book, now in an updated and extended third edition, systematically covers the use of diffusion-weighted (DW) MR imaging in all major areas of neuroradiology, including imaging of the head and neck and the spine as well as the brain. The authors guide the reader from the basic principles of DW imaging through to the use of cutting-edge diffusion sequences such as diffusion tensor (DTI) and kurtosis (DKI), fiber tractography, high b value, intravoxel incoherent motion (IVIM), neurite orientation dispersion and density imaging (NODDI), and oscillating gradient spin echo (OGSE). Pathology, pathophysiology, and patient management and treatment are all thoroughly discussed.