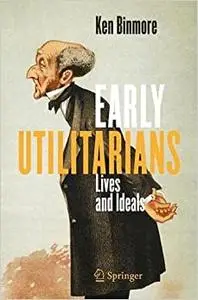 Early Utilitarians: Lives and Ideals by Ken Binmore
English | PDF | 2021 | 97 Pages | ISBN : 3030745821 | 4.5 MB
People who put the public good before their own self interest have been admired throughout history. But what is the public good? Sages and prophets who think they know better what is good for us than we know ourselves held sway on this subject for more than two thousand years. The world had to wait for the Enlightenment that burst upon the world in the eighteenth century for an account of the public good free from the prejudices of the privileged classes.
Utilitarianism is our name for this new way of thinking about morality. Francis Hutcheson encapsulated its aims by inventing its catchphrase "The greatest happiness for the greatest number'' fifty years before Jeremy Bentham, to whom the slogan is usually attributed. But what is happiness? Why did Jeremy Bentham and John Stuart Mill prefer to speak of utility? How did economists develop this notion? Does it really make sense to compare the utilities of different people? Bob may complain more than Alice in the dentist's chair, but is he really suffering more? Why should I put the sum of everybody's utility before my own utility?
This short book asks how such questions arose from the social and political realities of the times in which the early utilitarians lived. Nobody need fear being crushed by heavy metaphysical reasoning or incomprehensible algebra when this story is told. This book argues that the answers to all the questions that the early utilitarians found so difficult are transparent when we stand upon their shoulders to look back upon their work. The problem for the early utilitarians was to free themselves from the prejudices of their time. The lesson for us is perhaps that we too need to free ourselves from the prejudices of our own time.