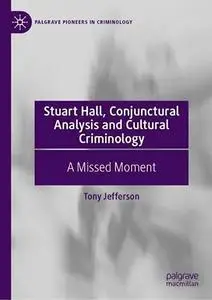 Stuart Hall, Conjunctural Analysis and Cultural Criminology: A Missed Moment by Tony Jefferson
English | PDF,EPUB | 2021 | 300 Pages | ISBN : 3030747301 | 5 MB
"An incisive and perceptive reminder of Stuart Hall's towering intellectual legacy and of the urgent need to resuscitate conjunctural analysis. The benefits of applying it to issues and movements such as Brexit, Black Lives Matter and Trumpism could hardly be more evident or more topical."
–-David Brown, Emeritus Professor, University of New South Wales
"This is a book which… is steeped in a knowledge of cultural studies… The intellectual scope of the book makes it a really original, enlightening and accessible read… for all those interested in any aspect of social and cultural research."
–-Rosalind Brunt, Visiting Research Fellow, Media Studies, Sheffield Hallam University
"There is nothing more important right now than to understand the current conjuncture, and Jefferson, whose psychosocial work in cultural studies and criminology remains groundbreaking, is just the person to illuminate the ways race, class, and heteronormativity are yoked together currently and expressed in the Brexit movement and in Trumpism."
–-Lynne Layton, Harvard Medical School
This book discusses Stuart Hall's unique contribution to Criminology. It suggests that this is captured best in Hall's commitment to understanding a given historical moment, or conjuncture, in its full complexity, and his continuous deployment of an appropriate methodology, conjunctural analysis, to do so. This provides a running thread linking Hall's early work on youth subcultures, the media, the state and hegemony to his later work on racial identities, racism and the politics of difference. This is contrasted with more theoretically-driven work in cultural criminology. Its failure to adopt a conjunctural approach constitutes, for the author, something of a missed moment. To demonstrate the continuing relevance of this form of analysis, the book provides a conjunctural analysis of Brexit, including its psychosocial dimension, and concludes with a brief analysis of Trump's failure to get re-elected. The book is intended for students of criminology and cultural studies.
Tony Jefferson is Emeritus Professor in Criminology at Keele University, UK. He worked with Stuart Hall and others to produce Resistance through Rituals (1976/2006) and Policing the Crisis (1978/2013).
Please Please :( We Are Here For You And Without You And Your

Support

We Can't Continue
Thanks For Buying Premium From My Links For

Support
i will be very grateful when you

support

me and buy Or Renew Your Premium from my Blog links
i appreciate your

support

Too much as it will help me to post more and moreWithout You And Your

Support

We Can't Continue
Thanks For Buying Premium From My Links For

Support