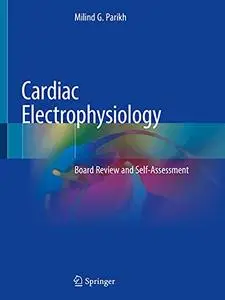 Cardiac Electrophysiology: Board Review and Self-Assessment by Milind G. Parikh
2022 | ISBN: 3030753255 | English | 342 pages | EPUB | 172 MB
This book offers a comprehensive review of clinical cardiac electrophysiology in a question and answer format. Chapters contain over 200 questions divided into 9 chapters, each organized by cardiac electrophysiology topic. Each question is followed by the correct answer with a detailed explanation along with references for further reading. Important concepts are highlighted and supported by over 200 illustrations and high resolution images. The book addresses a broad range of topics that are important when studying for the initial certification or recertification of the clinical cardiac electrophysiology board examination. It is also highly relevant for daily clinical practice in cardiology and cardiac electrophysiology.
Topics covered in the book include:
-Review of basic and clinical cardiac electrophysiology principles associated with cardiac arrhythmias
-The evaluation and management of patients with cardiac rhythm disorders
-Review of pharmacologic and nonpharmacologic therapies for the treatment of arrhythmias
-Clinical indications, fundamental principles and electrical characteristics of implantable cardiac electronic devices such as pacemakers and defibrillators
-Clinical, electrocardiographic, and electrophysiologic characteristics of specific cardiac arrhythmia syndromes
Cardiac Electrophysiology Board Review is a must-have resource for cardiology and cardiac electrophysiology trainees as well as attending physicians preparing for the certification or recertification examination. It may also be a useful guide for cardiologists, cardiac electrophysiologists and all clinicians who wish to further their understanding of heart rhythm disorders.