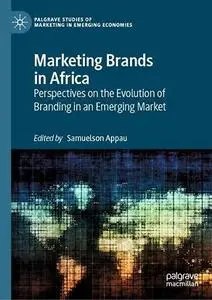 Marketing Brands in Africa: Perspectives on the Evolution of Branding in an Emerging Market by Samuelson Appau
English | PDF,EPUB | 2021 | 276 Pages | ISBN : 3030772039 | 7.3 MB
This contributed volume serves as an authoritative reference and guide for anyone looking to study or build a brand in Africa. Despite being touted as the 'last frontier' of global brands, very little research exists that examines brands and branding in this emerging market. Authors cover crucial topics such as the history of branding in Africa, branding approaches used by start-ups, religious organizations, political parties, and businesses in the informal economies of Africa, as well as marketing Africa as a brand using practical cases, empirical and critical approaches.
With the world's youngest population and the second-fastest growing economies, Africa has quickly become a hotbed for marketing and consumption of local and global brands. While past research has mostly focused on examining the brand image of Africa and African countries, or on branding Africa as a place for tourist consumption, what is missing is a comprehensive guide that discusses the theory and practice of branding and brands in and from Africa.
Through theoretical and practical contributions, the authors of this book seek to fill the knowledge gap about branding in and from Africa.
Samuelson Appau is a Senior Lecturer in Marketing at RMIT University in Melbourne, Australia. His research interests include consumer culture, branding and wellbeing and have been published in leading marketing journals such as the Journal of Consumer Research, Journal of Business Research, Marketing Theory and the Journal of Marketing and Public Policy, among others. He has also co-edited a book on wellbeing and has authored many book chapters. He teaches Branding, training marketing students, and entrepreneurs to understand how to build and market strong brands.