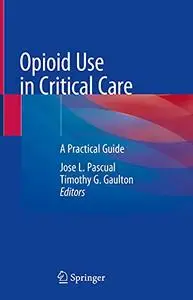 Opioid Use in Critical Care: A Practical Guide
English | 2021 | ISBN: 3030773981 | 291 Pages | PDF EPUB | 8 MB
This book provides a concise yet comprehensive overview on the use of opioids in the ICU, offering practical, real-world recommendations on opioid utilization and alternative therapies. The text explains the physiology and assessment of pain and the need for analgesia in the ICU, details the pharmacology of opioids and their use in providing analgesia, sedation, and comfort for patients during critical illness, and summarizes advanced pharmaceutical and surgical approaches to pain management and procedural applications that can supplement, minimize, or replace opioids for the ICU patient. The book also includes algorithms and step-by-step approaches on navigating the delicate balance between the relief of suffering and the adverse effects of opioids, as well as a dedicated section on the management of critically ill patients with preexisting opioid tolerance.