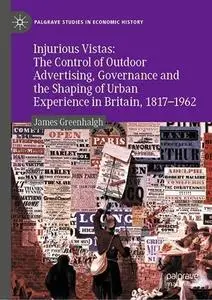 Injurious Vistas: The Control of Outdoor Advertising, Governance and the Shaping of Urban Experience in Britain, 1817–1962 by James Greenhalgh
English | PDF,EPUB | 2021 | 170 Pages | ISBN : 3030790177 | 14.2 MB
This book is a history of outdoor advertising control in Britain between the early-nineteenth century and the beginning of the 1960s. It considers the development of primarily legislative and governmental approaches to controlling commercial signage, billboards, posters and hoardings in rural and urban areas. This study of how the proliferation of outdoor advertising was dramatically curtailed serves as a means to examine how the understanding and governance of lived spaces developed over a century and a half. In the early-nineteenth century outdoor adverting was just another material nuisance to regimes of improvement; by the turn of the century it was reframed as a threat to architecture, rural beauty and codes of moral self-governance.
In the twentieth century it disrupted visual amenity and destabilized the civilizing influence of modern planning. More than merely a history of a radical and largely overlooked change in the visual environment, this is the story of how the modern state saw and regulated the lived spaces of Britain.
James Greenhalgh is an historian of modern Britain whose work concerns the experience and development of the built environment during the nineteenth and twentieth centuries. His work has examined the redevelopment of cities in the mid-twentieth century, trajectories of urban modernism, as well as the domestic and urban experience of the Second World War using life story perspectives.