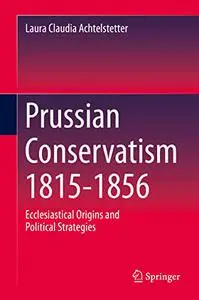 Prussian Conservatism 1815-1856: Ecclesiastical Origins and Political Strategies by Laura Claudia Achtelstetter
English | EPUB | 2021 | 278 Pages | ISBN : 3030810690 | 0.4 MB
The book examines the nexus between political and religious thought within the Prussian old conservative milieu. It presents early-nineteenth-century Prussian conservatism as a phenomenon connected to a specific generation of young Prussians. The book introduces the ecclesial-political 'party of the Evangelische Kirchenzeitung' (EKZ), a religious party within the Prussian state church, as the origins of Prussia's conservative party post-1848. It traces the roots of the EKZ party back to the experiences of the Napoleonic Wars (1806-15) and the social movements dominant at that time.
Additionally, the book analyses this generation's increasing politicization and presents the German revolution of 1848 and the foundation of Prussia's first conservative party as the result of a decade-long struggle for a religiously-motivated ideal of church, state, and society. The overall shift from church politics to state politics is key to understanding conservative policy post-1848. Consequently, this book shows how conservatives aimed to maintain Prussia's character as a Christian and monarchical state, while at the same time adapting to contemporary political and social circumstances.
Therefore, the book is a must-read for researchers, scholars, and students of Political Science and History interested in a better understanding of the origins and the evolution of Prussian conservatism, as well as the history of political thought.
i will be very grateful when you

Support

me and buy Or Renew Your Premium from my Blog links
i appreciate your

Support

Too much as it will help me to post more and more

Visit My Blog For Daily Very Exclusive Content,We Are Here For You And Without You And Your

Support

We Can't Continue Thanks For Buying Premium From My Links For

Support