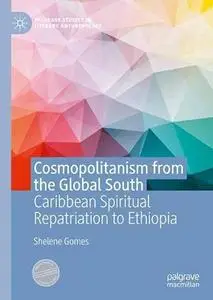 Cosmopolitanism from the Global South: Caribbean Spiritual Repatriation to Ethiopia by Shelene Gomes
English | PDF,EPUB | 2021 | 217 Pages | ISBN : 3030822710 | 2.3 MB
This is a book about the power of the imagination to move persons from the Global South as they reinvent themselves. This ethnography focuses on Caribbean Rastafari who have undertaken a spiritual repatriation to Ethiopia over several decades particularly, though not exclusively, from Jamaica. Shelene Gomes traces the formation of a Rastafari community located in the multicultural Jamaica Safar or Jamaica neighbourhood in the Ethiopian city of Shashamane following a twentieth century grant of land from the former Ethiopian Emperor, Haile Selassie I.
In presenting narratives of spiritual repatriation, everyday behaviours and ritualised events, Gomes provides an ethnographic account of Caribbean cosmopolitan sensibilities. Situated in the historical conditions of colonial West Indian plantations and the asymmetries of freedom and bondage within modernity, a recognition of global positionalities and local situatedness characterises this case of cosmopolitanism from the Global South.
Shifting the centre of worldviews from Europe to Africa, Rastafari both challenge global disparities as well as reproduce hierarchies in the local space of the Jamaica Safar. In positioning Ethiopia as the spiritual birthplace of humanity, Rastafari also engage in ontological and epistemological reinvention. This spiritual repatriation, in its emic sense, foregrounds the Caribbeanist contribution to anthropology. Ethnographies of the Caribbean have been at the forefront of anthropological enquiries into global interconnections. This discussion of spiritual repatriation is both specific to the diasporic Caribbean and relevant to wider world-making processes and representations.