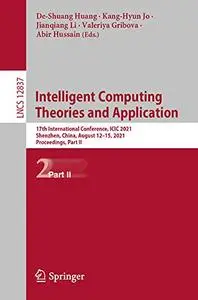 Intelligent Computing Theories and Application: 17th International Conference, ICIC 2021, Shenzhen, China, August 12–15, 2021, Proceedings, Part II by De-Shuang Huang
English | PDF | 2021 | 778 Pages | ISBN : 3030845281 | 87.2 MB
This two-volume set of LNCS 12836 and LNCS 12837 constitutes - in conjunction with the volume LNAI 12838 - the refereed proceedings of the 17th International Conference on Intelligent Computing, ICIC 2021, held in Shenzhen, China in August 2021. The 192 full papers of the three proceedings volumes were carefully reviewed and selected from 458 submissions.
The ICIC theme unifies the picture of contemporary intelligent computing techniques as an integral concept that highlights the trends in advanced computational intelligence and bridges theoretical research with applications. The theme for this conference is "Advanced Intelligent Computing Methodologies and Applications."
The papers are organized in the following subsections: Intelligent Computing in Computer Vision, Intelligent Control and Automation, Intelligent Modeling Technologies for Smart Cities, Machine Learning, and Theoretical Computational Intelligence and Applications.