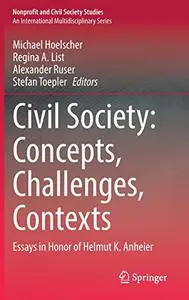 Civil Society: Concepts, Challenges, Contexts: Essays in Honor of Helmut K. Anheier by Michael Hoelscher

English | EPUB | 2022 | 498 Pages | ISBN : 3030980073 | 5.4 MB
This volume is a collection of original essays prepared by colleagues, collaborators, and former students on the occasion of Helmut K. Anheier's 65th birthday and retirement from the University of Heidelberg. An internationally recognized pioneer of nonprofit and civil society studies, Anheier focused his work on providing clarity around (1) civil society, local and global, observing its origins and trajectory and developing theories to explain it; (2) the nonprofit sector and institutions within and extending from it, including nonprofit organizations, philanthropy and social investment; and (3) culture as it relates to democracy and back to civil society. The essays in this volume refer to these concepts and position them in the context of developments over the last two to three decades.
The volume is arranged in three sections. The first section comprises essays that elucidate concepts and probe theories in the field. The second section presents chapters discussing current global challenges and trends in the focal areas. The third and final section then comprises country and regional case studies illustrating important aspects of the global challenges or theoretical issues of the two preceding sections.
A fascinating and up-to-date overview of key issues and trends in civil society and nonprofit research by an international collection of eminent scholars in these fields, this book will be attractive to civil society and nonprofit sector researchers as well as a broader academic community of political scientists, sociologists, economists, and cultural experts.
i will be very grateful when you

Support

me and buy Or Renew Your Premium from my Blog links
i appreciate your

Support

Too much as it will help me to post more and more

Visit My Blog For Daily Very Exclusive Content,We Are Here For You And Without You And Your

Support

We Can't Continue Thanks For Buying Premium From My Links For

Support