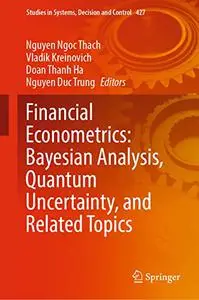 Financial Econometrics: Bayesian Analysis, Quantum Uncertainty, and Related Topics
English | 2022 | ISBN: 3030986888 | 865 Pages | PDF True | 25 MB
This book overviews latest ideas and developments in financial econometrics, with an emphasis on how to best use prior knowledge (e.g., Bayesian way) and how to best use successful data processing techniques from other application areas (e.g., from quantum physics). The book also covers applications to economy-related phenomena ranging from traditionally analyzed phenomena such as manufacturing, food industry, and taxes, to newer-to-analyze phenomena such as cryptocurrencies, influencer marketing, COVID-19 pandemic, financial fraud detection, corruption, and shadow economy. This book will inspire practitioners to learn how to apply state-of-the-art Bayesian, quantum, and related techniques to economic and financial problems and inspire researchers to further improve the existing techniques and come up with new techniques for studying economic and financial phenomena. The book will also be of interest to students interested in latest ideas and results.