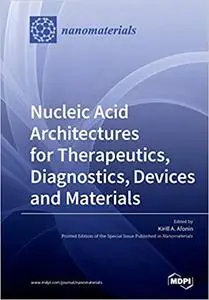 Afonin a Kirill, "Nucleic Acid Architectures for Therapeutics, Diagnostics, Devices and Materials"
English | ISBN: 3039212591 | 2019 | 186 pages | PDF | 30 MB
Nucleic acids (RNA and DNA) and their chemical analogs have been utilized as building materials due to their biocompatibility and programmability. RNA, which naturally possesses a wide range of different functions, is now being widely investigated for its role as a responsive biomaterial which dynamically reacts to changes in the surrounding environment. It is now evident that artificially designed self-assembling RNAs, that can form programmable nanoparticles and supra-assemblies, will play an increasingly important part in a diverse range of applications, such as macromolecular therapies, drug delivery systems, biosensing, tissue engineering, programmable scaffolds for material organization, logic gates, and soft actuators, to name but a few. The current exciting Special Issue comprises research highlights, short communications, research articles, and reviews that all bring together the leading scientists who are exploring a wide range of the fundamental properties of RNA and DNA nanoassemblies suitable for biomedical applications.
Read more