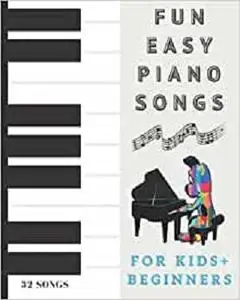 30 Fun and Easy Piano Songs for Kids and Beginners: Easy Piano Classics with Letters Above Notes for Right Hand, Left Hand and Hands Together by Zoe Halliday
English | June 19, 2021 | ISBN: N/A | ASIN: B098W7B4T3 | 34 pages | PDF | 8.28 Mb
32 Fun and Easy Piano Songs for Kids and Beginners
A perfect companion song book for those learning to play piano or keyboard. It includes fun, easy nursery rhymes and other classics, with lyrics included. Learning will be so much more fun!
Each note has their letter written above so the player can feel more comfortable while still learning to read sheet music. There are songs for right hand, left hand, and hands together.
32 popular tunes you will find inside:
Rain, Rain Go Away
This Old Man
A Tisket, A Tasket
Aura Lee
Starlight
Its Raining, Its Pouring
Happy Birthday
Ring Around The Rosie
Twinkle, Twinkle, Little Star
Baa, Baa Black Sheep
Mary Had A Little Lamb
Ode To Joy
Old Macdonald
London Bridge
Peter Peter Pumpkin Eater
Yankee Doodle
Skip To My Lou
Are You Sleeping
Wheels On The Bus
Muffin Man
Bingo
Rock A Bye Baby
Mulberry Bush
Pop Goes The Weasel
Hot Cross Buns
Row Your Boat
Itsy Bitsy Spider
Hey Diddle Diddle
There's A Hole In My Bucket
Heads Shoulders Knees And Toes
Lavender's Blue
Jingle Bells
Buy yours today!
Feel Free to contact me for book requests, informations or feedbacks.
Without You And Your Support We Can't Continue
Thanks For Buying Premium From My Links For Support