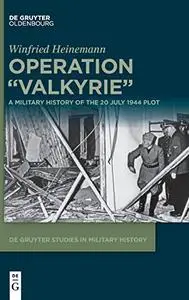 Operation "Valkyrie": A Military History of the 20 July 1944 Plot (De Gruyter Studies in Military History) by Winfried Heinemann
English | November 8, 2021 | ISBN: 3110699184 | True EPUB/PDF | 360 pages | 4.95/49.97 MB
20 July 1944 is usually associated with the bomb plot to murder Hitler. However, what distinguishes Colonel Stauffenberg's plan from all others is that the attempt on the Führer's life was only to be the initial stage of a full military coup d'état. The aim was to overthrow the murderous regime, and to end the war as soon as possible.
The conspiracy has long been analyzed from political, social, religious, or moral points of view. This book asks what the military dimension of the plan was. What traditions in the German army were at work, how was planning and preparation done, and why did the plot fail eventually? What is more: how did the conspiracy affect the German armies created in East and West after World War II, and also the Austrian Army?
As the politicians among the conspirators thought in categories of Imperial Germany or at least the Weimar Republic, the officers among them were conditioned by the Reichswehr. Yet, Stauffenberg and some others were also bright intellectuals who were willing to incorporate their war experience into their plans, rendering them surprisingly modern at times.
The coup d'état had been planned as meticulously as circumstances in war-torn Berlin allowed. However, as most officers had foreseen, once it became public knowledge that Hitler had survived Stauffenberg's bomb, army units refused to act. The myth surrounding the "Führer" effectively prevented any military action against him.
Still, the failed uprising had its effects: the regime took the opportunity to tilt the balance of power further in favor of Himmler and his fiefdom (SS, Gestapo, Police), to the detriment of the army which Hitler felt was too reactionary anyway.
The leadership of the West German Bundeswehr always saw the failed uprising as part of its tradition, but it took time for this attitude to percolate down to the rank and file. For decades, some of the former Wehrmacht soldiers viewed Stauffenberg and his friends as "traitors".
The book is the first to approach this important event in German history from a specifically military point of view, and that results in some surprising new results.