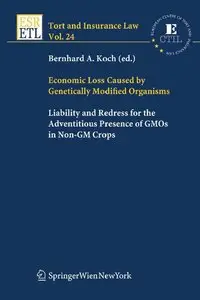 Bernhard A. Koch "Economic Loss Caused by Genetically Modified Organisms: Liability and Redress for the Adventitious Presence of GMOs in Non-GM Crops (Tort and Insurance Law)"
Springer | English | 2008-12-12 | ISBN: 3211779876 | 747 pages | PDF | 1,8 MB
The cultivation of genetically modified (GM) crops in the EU may lead to cases, in which traditional agricultural products contain detectable traces of GMOs. On the one hand, such admixture may result from inadequate application of segregation measures by farmers. On the other hand, as agriculture is an open process that does not allow the complete isolation of individual fields, a certain degree of admixture between neighbouring crops is unavoidable in practice.
The presence of GMOs in traditional products may lead to their devaluation, which would entail an economic damage to the producer of the traditional products. For instance, due to the presence of the GMO the traditional product may require to be labelled as GM.
GMOs and products containing or produced from GMOs have to be labelled according to Community legislation, in particular Directive 2001/18/EC, Regulation (EC) No. 1829/2003, and Regulation (EC) No. 1830/2003. For the case of adventitious or technically unavoidable presence of GMOs in non-GM products, Regulation 1829/2003 provides for a threshold of 0.9% below which such presence in food or feed does not require labelling. For seeds, Directive 2001/18/EC provides for the possibility of adopting thresholds, below which the adventitious or technically unavoidable presence of GM seeds does not require the labelling of conventional seed lots. Such thresholds have not yet been adopted.
The presence of GMOs in a product above the labelling threshold also triggers the need for traceability of GM products according to Regulation 1830/2003, which may cause additional costs for the operators concerned.
In the EU, crops may only be commercially cultivated after having been authorised for the purpose of cultivation under Community legislation (i.e. Directive 2001/18 or Regulation 1829/2003). The labelling thresholds only apply for the presence of authorised GMOs. Products containing detectable traces of unauthorised events can not be legally marketed in the EU.
According to part B of Directive 2001/18, an individual Member State may grant authorisation for a non-commercial release of a GMO, for instance for the purpose of experimental field testing. As a result of such experimental cultivation, GMOs not authorised under part C of Directive 2001/18 or under Regulation 1829/2003 may be present in traditional crops. This presence could cause economic damage as food and feed could not be marketed if it contains detectable traces of such GMOs.
The admixture of GMOs may also have specific implications for organic products. Regulation (EEC) No. 2092/91 on organic production of agricultural products specifies that GMOs may not be used in organic production, with the exception of certain veterinary products. Therefore, products that require labelling as GM could not be used in organic farming. This implies that GMO presence in organic input materials (such as seed or feed) could have implications beyond the necessity of labelling alone.
Further economic implications may result for farmers producing non-GM crops, if specific requirements concerning GMO presence, which go beyond the provisions in Community legislation, are laid down in contracts with the retailers or other operators further down the food or feed production chain. Such conditions may also apply for products produced under quality schemes.
In addition to the economic implications resulting from the actual presence of a GMO in a traditional product, costs may also occur due to sampling and testing of products, either on a basis of routine controls or in cases, where relevant GMO admixture may be suspected. In many cases, the presence of GMOs and their quantity could not be assessed without the use of laboratory analyses, which may cause significant costs.
Furthermore, economic implications for traditional producers that may relate to the presence of GM crop production in a region, and which could enlarge the risk of GMO admixture, could not be ruled out. For instance, food or feed producers may preferentially purchase crops from certain regions, where no GM crop production may take place.
If the cultivation of GM crops will become more widespread, the issue of liability in relation to GMO admixture could gain further importance in the EU. Compared to other cases of economic damage resulting from neighbouring activity, GMO admixture may pose specific difficulties because the admixture may initially remain undetected and become known at later stages of the food or feed production chain. Furthermore, the causal link between the damage and the operator responsible for it may not always be apparent as there may be different sources of admixture (e.g., seed impurities, outcrossing with neighbouring crops, volunteers from previous GM crop cultivation).
Liability in the case of economic damage that may result from the presence of GMOs in other crops is a case of civil law. Generally, civil law is in the responsibility of the Member States. In Recommendation 2003/556/EC on guidelines for the development of national strategies and best practices to ensure the coexistence of genetically modified crops with conventional and organic farming, the Commission states that:
"The type of instruments [to achieve co-existence] adopted may have an impact on the application of national liability rules in the event of economic damage resulting from admixture. Member States are advised to examine their civil liability laws to find out whether the existing national laws offer sufficient and equal possibilities in this regard. Farmers, seed suppliers and other operators should be fully informed about the liability criteria that apply in their country in the case of damage caused by admixture.
In this context, Member States may want to explore the feasibility and usefulness of adapting existing insurance schemes, or setting up new schemes."
Member States may develop national or regional approaches to ensure the co-existence of GM crops with conventional or organic agriculture. According to Article 26a of Directive 2001/18:
"Member States may take appropriate measures to avoid the unintended presence of GMOs in other products."
In the context of national or regional co-existence legislation Member States may also adopt specific provisions for liability in cases of GMO admixture, and develop compensation schemes, such as insurance systems or compensation funds.
Liability has to be seen in the context of measures to segregate GM crop production from traditional non-GM production in order to achieve co-existence between these different forms of agriculture. The approach taken by the Member States to allocate the responsibility for developing and implementing these segregation measures among the operators concerned has significant implications on liability.
To start download click HERE: