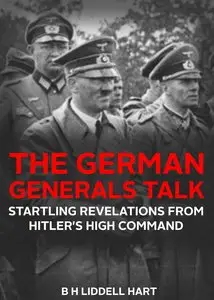 The German Generals Talk by B H Liddell Hart
English | December 1, 2014 | ISBN: 0688060129 | ASIN: B00QFZ6SAK | 257 Pages | EPUB/MOBI/AZW3/PDF (Converted) | 2 MB
The closing days of World War Two took a devastating toll on the German high command.
But a few of Hitler's generals survived.
In this fascinating book, first published in the 1950s, the German generals who survived Hitler's Reich discuss World War II with Captain B. H. Liddell Hart, the noted British military strategist and writer.
They speak as professional soldiers to a man they know and respect.
For the first time, answers are revealed to many questions raised during the war.
Was Hitler the genius of strategy he seemed to be at first?
Why did his Generals never overthrow him?
Why did Hitler allow the Dunkirk evacuation?
What was the German Generals' opinion of the Red Army as a fighting force?
What did the Russians look like from the German side?
How were the British regarded?
And what are the advantages and disadvantages under which dictator-controlled armies fight?
In vivid, non-technical language, Capt. Liddell Hart reports these interviews and evaluates the vital military lessons of World War II.
"A compelling view of Hitler's war" – Mail on Sunday
"Liddell Hart's book is a study of great importance and interest, indispensable to anyone who wants to know what really went on during World War II." – Hansen W. Baldwin, The New York Times
"He (Liddell Hart) was the most notable military thinker in Britain, if not indeed in the world; the intimate of distinguished politicians; respectfully deferred to by the military leaders but with an audience that extended far beyond the military" – Michael Howard, Emeritus Professor of Modern History, University of Oxford
"…a brilliant and original writer on the wars of the twentieth century" – Observer
"I have seldom found anything Liddell Hart wrote less than intensely readable." – Max Hastings
"a historian of great rank" – The Economist
Captain B.H. Liddell Hart (1895-1970) was an historian who made military history and theory interesting and understandable to the general reader. He was military writer for several London newspapers, as well as Military Editor of the 'Encyclopaedia Britannica'. He was knighted in 1966.
Endeavour Press is the UK's leading independent publisher of digital books.