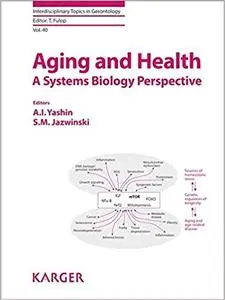 A.I. Yashin, "Aging and Health - A Systems Biology Perspective "
English | ISBN: 3318027294 | 2014 | 194 pages | PDF | 3 MB
Aging is a major risk factor for chronic diseases, which in turn can provide information about the aging of a biological system. This publication serves as an introduction to systems biology and its application to biological aging. Key pathways and processes that impinge on aging are reviewed, and how they contribute to health and disease during aging is discussed. The evolution of this situation is analyzed, and the consequences for the study of genetic effects on aging are presented. Epigenetic programming of aging, as a continuation of development, creates an interface between the genome and the environment. New research into the gut microbiome describes how this interface may operate in practice with marked consequences for a variety of disorders. This analysis is bolstered by a view of the aging organism as a whole, with conclusions about the mechanisms underlying resilience of the organism to change, and is expanded with a discussion of circadian rhythms in aging. Finally, the book presents an outlook for the development of interventions to delay or to reverse the features of aging. The publication is recommended to students, researchers as well as professionals dealing with public health and public policy related to an aging society.