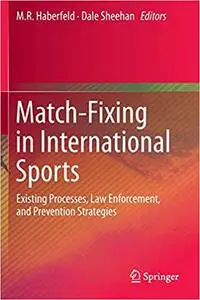 M.R. Haberfeld, Dale Sheehan, "Match-Fixing in International Sports: Existing Processes, Law Enforcement, and Prevention Strategies"
English | 2013 | pages: 375 | ISBN: 3319025813 | PDF | 3,2 mb
Match –fixing has become a widespread international problem in recent years. It includes everything from bribery of players, to putting undue influences on the owners of the soccer clubs, managers, coaches and others who have the ability to affect the final scores. In addition, match-fixing spills over into the arena of illegal betting (in person and online), which creates a host of additional organized crime opportunities, including human trafficking, prostitution, drugs, extortion and even terrorism. This timely volume brings together international contributions with an aim is to increase awareness of the problems associated with match-fixing and the degree to which key agents in sport, particularly young people, are vulnerable. The contributions are based on INTERPOL's Global Experts Meeting in Singapore, in November 2012, which brought together key speakers to discuss issues surrounding match-fixing and how to combat corruption in football through channels of education. The purpose of this meeting was to identify ways that academia can play a role in developing and implementing training modules and academic courses, including certification procedures, to prevent match-fixing and develop lines of study at all educational levels. This unique work reflects the gravity of the situation around the world together with possible solutions.
My Link