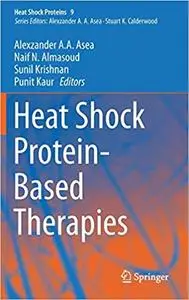 Alexzander A.A. Asea, "Heat Shock Protein-Based Therapies "
English | ISBN: 3319172107 | 2015 | 385 pages | EPUB, PDF | 3 MB + 7 MB
The book Heat Shock Protein-Based Therapies provides the most up-to-date review on new heat shock protein-based mechanisms used in the therapy and treatment of various human disorders and diseases, including cancer, muscular atrophy, neurodegenerative disorders (Alzheimer`s Disease, Multiple Sclerosis) and infectious diseases (HIV, periodontal disease). Written by leaders in the field of heat shock protein research, the chapters systematically and in a step wise fashion takes the reader through the fascinating sequence of events by which mechanisms dependent on heat shock proteins are targeted. The chapters also provide answers as to HSP biological significance to the host. This book is a must read for graduate and postgraduates in the field of Drug Development, Biotechnology, Pharmaceutical Industry, Phytomedicine, Biology (plant and mammal), Biochemistry (pro- and eukaryotic), Oncology, Immunology, Microbiology, Exercise Medicine, Physiology, Inflammatory diseases, Autoimmunity, Pharmacology and Pathology.