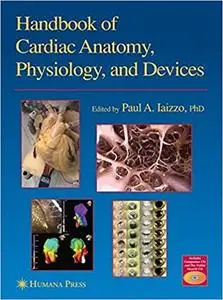 Paul A. Iaizzo, "Handbook of Cardiac Anatomy, Physiology, and Devices"
English | 2005 | ISBN: 1592598358, 1588294439 | PDF | pages: 460 | 49.9 mb
Leading experts from the University of Minnesota's renowned Lillehei Heart Institute and scientists from Medtronic, Inc., have assembled a concise yet detailed and comprehensive reference source of information on the anatomic features, underlying physiologic mechanisms, and treatments for diseases of the heart. The busy bioengineer working on cardiac devices will find here the complete critical background needed to understand cardiac pacing, defibrillation, cardiac repair using stem cell therapy, robotics, less invasive cardiac surgery, biventricular pacing, cardiac bioenergetics, and more. Insightful chapters address animal models for cardiac research, cardiac mapping systems, heart valve disease, ventricular assist devices, and genomics-based tools and technology. Two companion compact disks offer unique insights into the working heart. The first contains selected color images and movies to enhance understanding of vital points in the text. The second contains the Visible Heart®, a visualization of functional cardiac anatomy made possible by technologies jointly developed by the University of Minnesota and the Cardiac Rhythm Management Division at Medtronic.