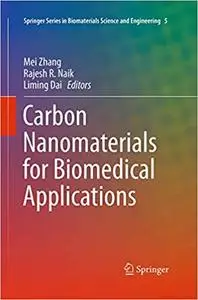 Mei Zhang, Rajesh R. Naik, Liming Dai, "Carbon Nanomaterials for Biomedical Applications"
English | 2015 | pages: 576 | ISBN: 3319228609 | PDF | 32,9 mb
This book covers a wide range of topics relating to carbon nanomaterials, from synthesis and functionalization to applications in advanced biomedical devices and systems. As they possess unique and attractive chemical, physical, optical, and even magnetic properties for various applications, considerable effort has been made to employ carbon nanomaterials (e.g., fullerenes, carbon nanotubes, graphene, nanodiamond) as new materials for the development of novel biomedical tools, such as diagnostic sensors, imaging agents, and drug/gene delivery systems for both diagnostics and clinical treatment. Tremendous progress has been made and the scattered literature continues to grow rapidly.
With chapters by world-renowned experts providing an overview of the state of the science as well as an understanding of the challenges that lie ahead, Carbon Nanomaterials for Biomedical Applications is essential reading not only for experienced scientists and engineers in biomedical and nanomaterials areas, but also for graduate students and advanced undergraduates in materials science and engineering, chemistry, and biology.
My Link