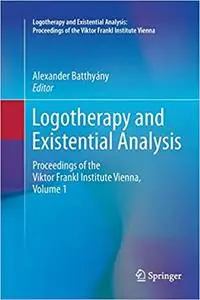 Alexander Batthyány, "Logotherapy and Existential Analysis: Proceedings of the Viktor Frankl Institute Vienna, Volume 1"
English | 2016 | ISBN: 3319294237 | PDF | pages: 461 | 8.2 mb
This landmark volume introduces the new series of proceedings from the Viktor Frankl Institute, dedicated to preserving the past, disseminating the present, and anticipating the future of Franklian existential psychology and psychotherapy, i.e. logotherapy and existentialanalysis . Wide-ranging contents keep readers abreast of current ideas, findings, and developments in the field while also presenting rarely-seen selections from Frankl's work. Established contributors report on new applications of existential therapies in specific (OCD, cancer, end-of-life issues) and universal (the search for meaning) contexts as well as intriguing possibilities for opening up dialogue with other schools of psychology.