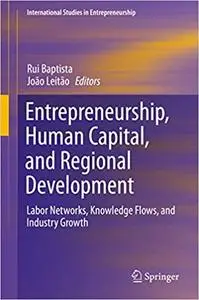 Rui Baptista, João Leitão, "Entrepreneurship, Human Capital, and Regional Development: Labor Networks, Knowledge Flows, and Industry Growth"
English | 2015 | pages: 399 | ISBN: 3319384279 | PDF | 6,9 mb
This book makes original contributions to the literature on clusters, human capital, and regional development by focusing on the link between entrepreneurship and economic growth, aiming for a better understanding of the dynamics of growth determined by the entrepreneur's action in the regional space. The focus is therefore on critical reflection and rethinking the articulation between three levels of analysis of economic systems, namely entrepreneurship, human capital and regional development, which have not so far been perfectly articulated in the literature of reference on endogenous growth.
Although there has been significant research so far into the success and failure of clusters, the implications of these multiple research efforts fail to provide political decision-makers and company managers with critical information about which mechanisms lie behind cluster success and also about how clusters survive and prosper. The innovative approaches presented in this book on entrepreneurship, human capital mobility and regional development have considerable potential to create new and original implications for decision-makers and managers.
In terms of value added, this book contributes to the literature by seeking answers to the following questions:
(i)                 Is the growth and success of clusters over time due to concentration and transmission of business competences through spin-offs located in a given regional space?
(ii)               Does increased density of job options outside the workplace contribute to increased mobility of human capital between firms located within clusters, and so improve coordination in the local labor market?
(iii)             Do spin-offs benefit from hiring workers from successful incumbents, inasmuch as those workers are expected to perform better than other workers from different origins?
Integrating theoretical frameworks, empirical research, and regional case studies (from Portugal, Spain, Norway and Turkey), the editors and contributors demonstrate that the regional dynamics of industry growth are strongly influenced by the mobility of employees towards new firms.
My Link