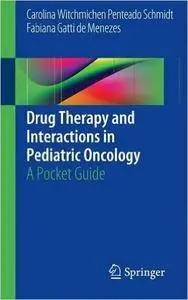 Carolina Witchmichen Penteado Schmidt, "Drug Therapy and Interactions in Pediatric Oncology: A Pocket Guide"
2016 | ISBN-10: 3319388711 | 208 pages | PDF | 2 MB
There are few publications about drug interactions in chemotherapy and even less about pediatric oncology treatment. For this reason, the present book is intended to offer guidelines about drug interactions for physicians, pharmacists and the other healthcare professionals involved in the chemotherapy of pediatric patients. In this book the reader will have access to a primary introduction for the major diseases in pediatric oncology, followed by the major therapeutic protocols. Following that, the most important drug interactions in pediatric oncology treatment are presented and discussed in detail. Finally, important topics such as Drug-Food Interactions are addressed.
Drug Therapy and Interactions in Pediatric Oncology focuses in great detail on the drug interactions in Pediatric Oncohematology and will be an indispensable resource in daily practice for a wide range of health providers.