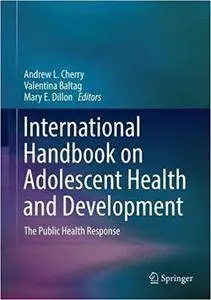 Andrew L. Cherry and Valentina Baltag, "International Handbook on Adolescent Health and Development: The Public Health Response"
English | ISBN: 3319407414 | 2017 | 552 pages | PDF | 10 MB
This comprehensive reference uses an ecological perspective to sort out the complex mix of biological, psychological, social, and other factors influencing adolescent health as well as shaping professional responses to the needs of adolescents. Describing critical concerns at the global level and innovative strategies from selected countries, the book urges readers to develop and support practices and policies to enhance optimal youth development. Expert coverage centers on key areas: the global state of adolescent health and development, adolescent health issues and public health answers, making health systems more responsive to youth, and improving school health services. And bedrock themes such as social determinants of health, young people's right to health care, and health and gender disparities are discussed throughout these chapters.
Included among the topics:
• The epidemiology of adolescent health
• Adolescent sexual health and sexuality education
• Restorative justice and the mental wellbeing of adolescents
• Critical issues in adolescent nutrition: needs and recommendations
• Towards an adolescent competent workforce
• Pairing children with health services: the changing role of school health services in the 21st century
The International Handbook on Adolescent Health and Development is essential to medical schools, public schools, and college libraries; teaching faculty; graduate and post-graduate students in public health, medicine, social work, other behavioral sciences and health disciplines (e.g., nursing, allied heath); as well as practitioners interested in better orienting their services to the health needs of adolescents.