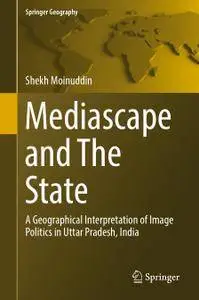 Mediascape and The State: A Geographical Interpretation of Image Politics in Uttar Pradesh, India By Shekh Moinuddin
English | PDF | 232 Pages | 2017 | ISBN : 331951931X | 7.41 MB
This book investigates image politics during elections and how the political discourse is reflected during the Uttar Pradesh assembly elections in 2012 by the media and the state. It reveals new dimensions of media geography in India and makes image construction and interpretation easy to comprehend. This interdisciplinary approach is located at the interface of geography with social, political, cultural, and media sciences.
The book draws a geographical interpretation of politics to reveal the role of both media and the state to shape the political discourse with special focus on the privileged position of the "heartland" Uttar Pradesh in Indian politics. It studies the "mediascape" by highlighting application of media in both public and private spheres and discussing the importance of both old and new media, e.g., print, radio, TV, social media. Several crucial aspects are discussed and answered. How do media and politicians construct politics around the issue of minorities? How do media communalize issues during the election campaign? How can local issues gain national importance and shape national politics?
This book appeals to scientists but also to graduates and postgraduates that want to understand the way image politics are performed.